Finding a natural, eco-friendly laundry detergent can feel pretty overwhelming.

Loads of companies stick claims like 'non-toxic' or 'good for the planet' on their bottles. But how do you know who to trust?

The truth is that most laundry detergent is packed full of nasty chemicals. Not only do they pollute water and kill wildlife, but they are pretty terrible for our skin too. The harsh chemicals found in laundry soap can disrupt our natural pH, contributing to itchy rashes and dermatitis. (Source)

Even the hypoallergenic options aren't always the best choice for the planet. Over a billion plastic laundry bottles are thrown away in the USA every year! Many end up in landfills (and the ocean), including those put in the recycling bin.

I wanted to find a decent zero waste laundry detergent for ages that is also natural and non-toxic. I wanted something non-abrasive because I've got a baby so it needed to be gentle. But it had to be good enough so that it would get all the stains and smells out even when you're working with animals such as horses and cows.

So, if you want to find a laundry detergent that is kind to your skin, to animals, and to the planet, here are 11 suggestions that actually work!
Best Zero Waste, Natural Laundry Detergents
For anyone based in the USA, Dropps laundry detergent is a great choice. I personally have been using them for several years and love the sustainability and ease of their products!

In 2017, Dropps was made the EPA's safer choice partner of the year. This means that they meet strict requirements for human and environmental health. Their products are plant-based, chlorine-free, phosphate-free, and animal-cruelty-free.

It's not just the ingredients that are gentle to the planet, though. Dropps uses paper tape and corrugated cardboard packaging, which is certified by the Forestry Steward Council.

They have also designed their laundry pod boxes to double as the shipping container to cut down on unnecessary packaging. (The postage may be carbon neutral and it's also free!)

You can choose from natural scents like Lavender & Eucalyptus, or you can go for a scent-free laundry pod that you can even use for babies clothes since they're for sensitive skin. Whichever you pick, the pods are great for getting out stains without using any harsh chemicals that harm your skin or the planet.

On their website, you can even sign up for an automatic subscription so you never have to worry about running out!
EWG Rating: A
Price Per Load: From 20 cents a load
Pros
Top EWG rating
Plant-based
Chlorine-Free, Phosphate-free
Animal-cruelty free (according to Dropps)
Carbon neutral (and free!) shipping
Compostable packaging
EPA safer choice partner of the year
Packaging comes from sustainable sources
Made in the USA
Works on stains
Eliminates strong odors
Cons
Only ships within the USA (recently suspended shipping to Canada!)
Not leaping bunny certified
Nellie's Laundry Soda is a powdered laundry product.

Using a powdered soda cuts out the unnecessary plastic packaging that comes with laundry liquid. It also means that you are paying for the pure product, not a diluted version which takes up more space in your cupboards and costs more to ship.

I love that Nellie's Laundry Soda only has four ingredients. Because, quite frankly, life is complicated enough as it is!

Nellie's Laundry Soda is hypo-allergenic, so it's an excellent choice for people with sensitive skin. It is also vegan and free from harmful chemicals and fragrances.

The product is fragrance-free, but that doesn't mean it's any less effective. We may associate strong floral scents with fresh laundry these days, but remember, clean doesn't actually have a smell!
EWG Rating: B
Price per load: From 11 cents
Pros
Good EWG rating
Powdered product – cuts down on packaging, shipping emissions, and storage space!
SLS and SLES free, Gluten-free
Phosphate-free, Chlorine-free, Fragrance-free
Optical-brightener free
Vegan
Only four ingredients
Hypoallergenic
Extremely affordable when you buy in bulk
Cons
Only ships to USA and Canada
Some people might prefer a scented laundry detergent
Tru Earth Laundry Strips look nothing like conventional laundry products.

These strips of ultra-concentrated detergent feel almost like paper. You just tear off a strip, pop it in the bottom of your washing drum, then add your clothes and launch the washing cycle.

The great thing about this product is it takes up hardly any cupboard space. It's super light and compact, which also makes shipping cheaper and less harmful to the planet. There are no plastic jugs, and you won't have any messy spills to clean up.

Due to the super small package size, Tru Earth offers affordable international shipping. You can also sign up for subscription services, so you don't have to worry about running out.

Tru Earth strips are vegan and hypoallergenic, but they are just as effective at cleaning laundry as the toxic conventional products. But one of the ingredients was historically tested on animals (not by Tru Earth). You can find their statement on that in the product FAQs.

You can also buy it over the Eco Roots store for a more zero waste alternative to Amazon.
EWG Rating: C
Price per load: from 39 cents
Pros
Vegan
Ships worldwide
Subscription service possible
Plastic-free packaging
Safe for septic tanks
Gluten and palm oil-free
Chlorine-free, No added dyes, Phosphate-free, Paraben-free, Free of 1,4-dioxane
Made In Canada
Hypoallergenic
Easy to use (1 strip = 1 load)
Biodegradable in accordance with OECD 310D
Cons
One ingredient was historically tested on animals
Not the best EWG Rating
Biokleen was founded by Jim Rimer.

He was working in a chemical supply company at the time, and he couldn't shake the feeling that something wasn't right. This was back in the 1980s, before zero-waste and eco-friendly products were in high demand!

Since then, he created the Biokleen company, which produces non-toxic cleaning products. I myself have used it for cleaning my babies cloth diapers and it has worked great!

The fragrance-free Biokleen laundry detergent is plant-based and not tested on animals.

BUT, there is no mention of any leaping-bunny certification, so it's hard to know whether this product is cruelty-free.

Having said that, I checked out the Leaping Bunny blog, and they have recommended Biokleen products in newsletters from 2019 and before. So you're probably safe to assume this is cruelty-free, but I'd be interested to know why they didn't recommit to certification.
EWG Rating: B
Price per load: From 15 cents
Pros
Good EWG Rating
Made in the USA
Product not tested on animals
No artificial colors or fragrances
Phosphate-free, Chlorine-free, Ammonia-free
No Brighteners
Plant-Based
Soft on your skin (but not hypoallergenic)
Extra concentrated (so your money goes further)
Leaves clothes nice and soft
Cons
No Leaping Bunny certification
Some people report it doesn't fully dissolve
Plastic liner in box (not zero-waste)
The Beyond Laundry Detergent Sheets are similar to the Tru Earth product. You tear off and use one strip per load, which means the packages are compact and light.

You won't find any plastic in the packaging, and you don't have to worry about any spills or messes.

If you go for the case of 12 packs, the Beyond Laundry sheets work out considerably cheaper than the Tru Earth alternative. They don't offer the subscription service that Tru Earth does though, so they might be less convenient for people living in a small space.

As well as being zero-waste, these laundry trips are vegan and not tested on animals. For now, they don't appear to be Leaping Bunny Certified. (But neither is Tru Earth.)
EWG Rating: Not Rated
Price Per Load: 25 cents
Pros
Cheaper than similar alternatives
Vegan
Not tested on animals
Lighter and more compact than liquid detergent
Plastic-free packaging
Dissolves well
Readily biodegradable
Chlorine-free
No added dyes
Cons
Not Leaping Bunny certified
Not EWG rated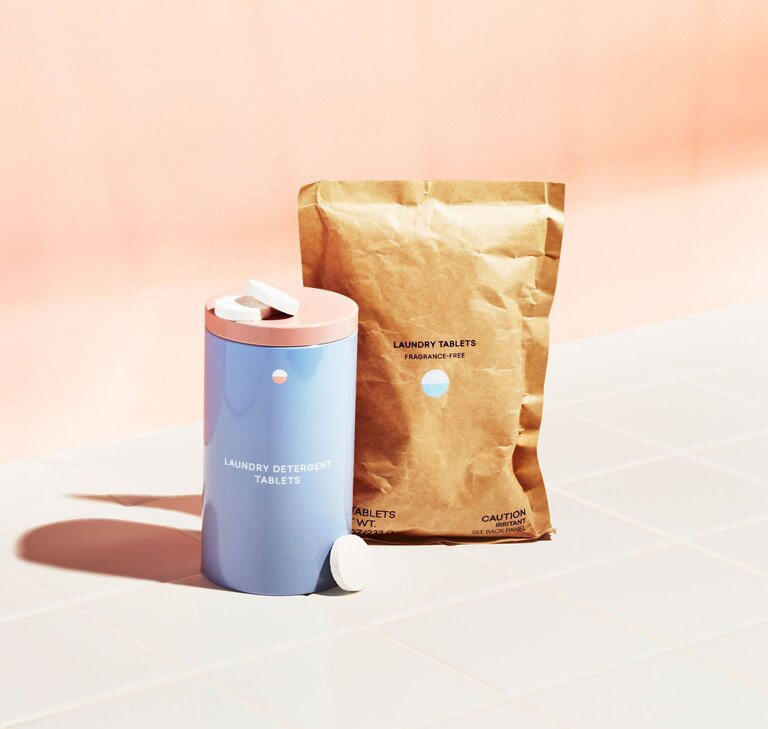 Image by Blueland
Blueland laundry tablets come in a tin, which you can order refills for once you've finished your first packet. All the refills come in a compostable paper packet, making this product completely plastic-free.

The tablets are tiny, saving cupboard space, but they still do a great job on full laundry loads.

The vegan and non-toxic formula is Leaping Bunny certified, made with ingredients that are friendly to the planet and our skin. They are also shipping carbon-neutral and their company has become Climate Neutral Certified in 2021 and are also Cradle to Cradle certified.

Behind Blueland is a mom who became horrified when she learned that all the plastic she "was throwing away was contaminating our water supply and generating hundreds of microplastics in the water and the food she was feeding her baby. She wanted to do her part to help, but it was impossible to find household products like window cleaner, lotion, and toothpaste that didn't come packaged in plastic. From there, Blueland was born."

EWG Rating: Not Rated
Price per load: From 27 cents a load
Pros
Paraben-free, Phosphate-free, Phthalate-free
No ammonia, VOCs, or chlorine bleach
Gluten, Soy, and Nut-free
Cradle to Cradle Certified™
Leaping Bunny certified – Vegan
Plastic-free product and packaging
Carbon Neutral Shipping
Dry tablets = no spillages
Cons
Some users complain that the tablets don't fully dissolve, even when broken up
Only ships in the USA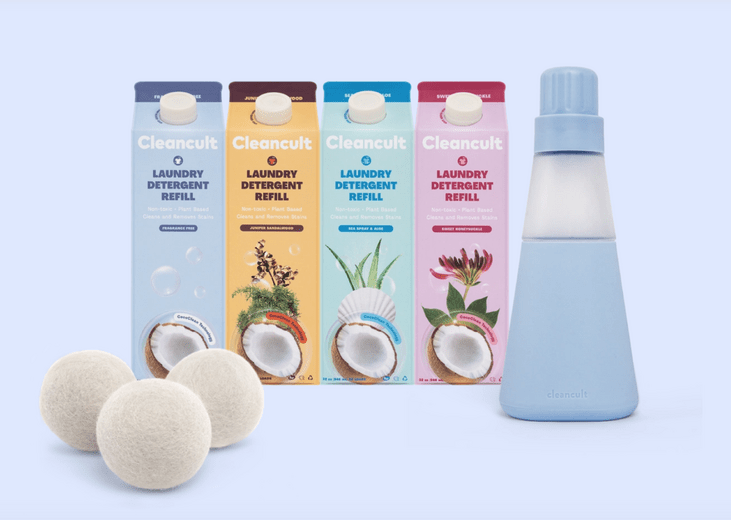 Image by Cleancult
Cleancult Laundry Detergent is a coconut-based laundry product that you can get in four different scents.

It comes with a glass bottle, which you top up using their laundry liquid refills. The packaging is a recyclable carton with a plant-based cap.

You should know that the refill cartons have a thin layer of aluminum and polyethylene (plastic) inside the thick cardboard outer layer. So the packaging is recyclable, but it isn't zero waste.

The reason that this plastic layer is needed is to stop the liquid detergent from leaking. I would rather use a laundry detergent that isn't diluted with water, so plastic wasn't necessary. (It would also cut down on the weight and size of the packaging considerably.)

But, some people find that powders and tablets don't dissolve very well in their water.

A liquid detergent like this could be a good solution in that situation. Plus, customer reviews are extremely positive for Cleancult, with users consistently comparing the product to more conventional brands.

So, if you have a family member who is resisting eco-friendly cleaning products, this might be an excellent way to start the transition.

The detergent itself is GMO-Free, Paraben Free, and Phthalate Free. All the refills are cruelty-free and vegan, and the shipping is carbon neutral.
EWG Rating: Not Rated
Price per load: From 16 cents a load
Pros
Vegan and cruelty-free
Leaping Bunny Certified
Recyclable packaging
Carbon Neutral Shipping
GMO-Free, Paraben-Free, Phthalate Free
Perfect for winning over a reluctant family member
Considerably less plastic than with a conventional laundry detergent
No toxic chemicals
Cons
Some plastic and aluminum in packaging
Mixed with water – making it heavier and less compact
Not hypoallergenic – contains coconut, which some people are allergic to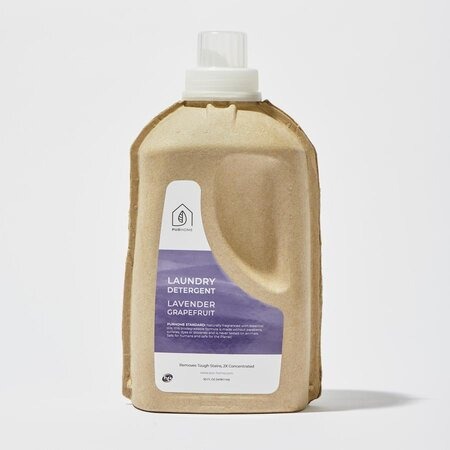 Image by Pur Home
Pur Home sells non-toxic laundry detergents and household cleaners. Just like Cleancult, they are Leaping Bunny Certified. This means that their products have been checked against rigorous industry standards and declared cruelty-free.

Many companies will claim their products are cruelty-free, but it's always best to go for laundry detergent with independent accreditation, so you know that you can trust what they are saying.

Pur Home detergent is packaged in a thin plastic bag, which is supported by a thick cardboard bottle. This means the company could limit plastic while ensuring the detergent isn't going to leak on its way to you.

Like with Cleancult products, the detergent is mixed with water, making it heavier and means the packaging requires some plastic. This isn't ideal, but plastic has still been considerably cut down in their packaging, and the ingredients are far better for your health and the planet than conventional detergent.
EWG Rating: A
Price per load: 26 cents
Pros
Top EWG rating
Leaping Bunny certified – Vegan
Reduced plastic in packaging
Black, women-owned business
Gluten-free
Free from SLS/SLES, No Synthetic Perfume
No 1, 4-Dioxane, Chlorine
No DEA, Phosphate-free, Formaldehyde-free
Septic tank safe
Cons
Not zero waste – comes with thin plastic liner
Mixed with water – makes it heavier and less compact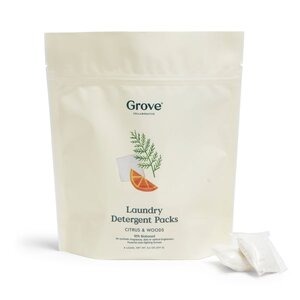 Image by Grove Collaborative
Grove Collaborative laundry pods are made with plant-based ingredients, including essential oils. You can choose from Lemon, Eucalyptus & Mint, or Lavender & Thyme. There's also a scent-free option for those that prefer it.

If you email the company, they will send you a prepaid return label to mail back the plastic pouches. They will then recycle these in the TerraCycle program. Although I appreciate the gesture, I have to say that reducing waste altogether is much better than recycling, as it takes less energy and water, and creates less pollution.

Furthermore recycling plastic does not mean it is a truly circular recycled system where every part of the product gets used.

The non-toxic, vegan ingredients are far better for the planet than conventional detergents, but I would personally prefer to find something zero-waste. If your priority is to create a chemical-free home, Grove Collaborative products are a great choice.
EWG Rating: Not Rated
Price per load: 35 cents
Pros
Effective on stains
100% plant-based materials
Free from harsh chemicals
No artificial dyes or fragrances
Scented with essential oils
Recyclable packaging (you can send it back to Grove in for free!)
Leaping Bunny certified
Made in the USA
Cons
No EWG Rating
Not Hypoallergenic
Not zero-waste
Some people find they don't fully dissolve
USA shipping only (And no shipping to Alaska, Hawaii, other US territories, or Canada.)
Molly Suds Laundry Detergent is made with just five plant-based ingredients.

The product is free of toxic chemicals, and the peppermint essential oil leaves clothes smelling fresh and clean. (It's not too overpowering, though, just a slight scent!)

Molly Suds detergent is both vegan and Leaping Bunny Certified. Plus, you can sign up for a subscription service to free up space in your cupboards.

The only downside of this product is the plastic packaging. Although the company uses recycled plastic, it would be better if they could eliminate plastic altogether.
EWG Rating: A
Price per load: From 20 cents
Pros
Plant-based, non-toxic ingredients
Vegan
Leaping Bunny certified
Fragranced with essential oil
Phosphate-free, Chlorine-free, Phthalate Free
No Parabens
No cancer-causing contaminants
Cons
Not zero waste
Not hypoallergenic (But many people with sensitive skin love the product. It really depends how serious your allergies are!)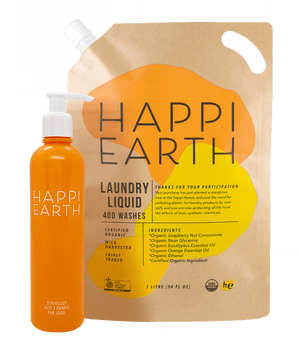 Image by Happi Eearth
Happi Earth is a super-concentrated liquid detergent made in Australia.

I love that the company plants a tree for every purchase. They minimized plastic by using a paper carton with a thin plastic liner. While I'd prefer a zero-plastic option, it's great that Happi Earth lets you return your packaging to get it refilled.

The detergent is cruelty-free, certified organic, and free from toxic chemicals. You only need half a teaspoon of detergent per wash, which drastically reduces the amount of packaging and shipping involved with the product.
EWG Rating: Not Rated
Price per load: 25 cents
Pros
Super-concentrated to minimize packaging
Refillable packaging
Organic ingredients, No GMOs
Cruelty-free (no animal testing)
Phosphate-free, Chlorine-free
No artificial fragrances or preservatives
A tree planted with every sale
Vegan
Scented with essential oils
Money-back guarantee if you don't like it
Cons
Not plastic-free
Company based in Australia – doesn't ship abroad
Not Hypoallergenic
Other Natural, Eco-Friendly Laundry Detergents
The following laundry detergents didn't make it to our top list, but they are still worth considering if you can't get hold of the best options for any reason.

You might notice that I am pointing out which of these products are soaps rather than detergents. All will become clear a bit later on in the article!
Zero Co Australia
Zero Co Australia sells laundry detergent in recycled plastic pouches. You can send these pouches back to get refilled free of charge, which helps cut down on plastic waste.

They are a reasonable choice for people living in Australia, but sending the pouches back and forth creates quite a bit of unnecessary shipping. Products are vegan and cruelty-free, and they don't contain any nasty toxic chemicals.
Ecos
Ecos facilities are run on 100% renewable energy. Their products are cruelty free, vegan, and nontoxic! Their zero waste laundry detergent option are Ecosnext laundry detergent sheets that come in 3 different smells.

1. Magnolia & Lily

2. Lavender & Vanilla

3. Free & Clear

So don't buy their liquid detergent as that comes in large plastic containers. It would be much better if they concentrated their formula and came up with a better packaging policy.
Ethique Laundry Bar (Soap)
Ethique Laundry Bars look just like a bar of soap. They are a great, zero-waste alternative to laundry liquid. The ingredients are biodegradable and vegan. The drawback of a laundry bar like this is that they aren't suitable for use with a washing machine. For anyone that washes clothes by hands, such as backpackers, this would be a great choice.
Tangie Laundry Paste (Soap)
Tangie Laundry Paste is another soap-like bar. What's cool about this one is that you can dissolve it in liquid to create your laundry detergent suitable for your washing machine. This product is vegan, phosphate-free, and biodegradable. Some people report that the Tangie Laundry Paste isn't very effective on sweaty clothes, so it would be better for lightly soiled garments.
Eco Nuts Organic Laundry Detergent (Soap)
Eco Nuts Organic Laundry Detergent is made from soapberry shells. You just have to pop them in the cloth bag then throw them in the washing machine with your load.

The liquid that comes out of the soapberries is chemical-free and vegan. It's great for people that tend to have itchy reactions to laundry detergent. 

Although scentless, some people report their clothes smell slightly musty after using the soap nuts, which is why I didn't include them in the top choice list. 

You can buy them from the EarthHero store that ships everything sustainably and plastic free or from Amazon if you rather buy from them.
Meliora Laundry Detergent (Soap)
Meliora Laundry Detergent is a vegan laundry product, which has the Leaping Bunny and MADE SAFE seals. Their products are free from preservatives, palm oil and dyes. The ingredient list is short and plant-based. Be careful though, it's not hypoallergenic. So if you have sensitive skin, this wouldn't be the best one to choose.

You can buy them from the EarthHero store that ships everything sustainably and plastic free or from Amazon if you rather buy from them.
Butter Me Up Organic (Soap)
The final eco-friendly laundry company that I'm going to recommend is Butter Me Up Organics. They create vegan, cruelty-free, and zero waste laundry products. The laundry bar comes in a powdered form, which makes it easy to use in your machine and hand washing. I hesitated to include this in the top choices list, because they don't seem to have an official certification to back up their claims.
What is Zero Waste Laundry Detergent, and Why Would You Need It?
If a laundry detergent is zero waste, it means that no part of the packaging will end up being incinerated, clogging up the ocean, or in landfills.
This doesn't include products that come with recyclable plastic packaging because only a tiny percentage of plastic is recycled. But a laundry detergent that came in a compostable cardboard box would be zero-waste because it will naturally break down into Organic Matter.
Why Go Zero Waste?
If you've never heard of Zero Waste, check out our article of "What Zero Waste Means and Why it is Important".

Our planet is choking in microplastics right now.

Not only does this pose a risk to wildlife, but it's also a serious concern for human health. Microplastics mop up other toxic chemicals, which has a range of health implications.

For example, microplastic ingestion is linked to:

– Oxidative Stress
– DNA Damage
– Inflammation (Source)

Microplastics are so widespread that they have been found in the bodies of fish and the placentas of pregnant women!
Don't panic; it's not too late to turn this around.
Amazing ocean clean-up projects are happening right now, and we've even discovered fungi that can eat up plastic! But if we are going to make the world a better place for future generations, we have to stop creating and disposing of unnecessary plastic products. (Like, now!)
How Toxic is Traditional Laundry Detergent?
Traditional laundry detergent has a wide range of toxic chemicals that can hurt human beings and wildlife. Here are some of the ingredients you should look out for:
Phosphate
Humans need a small amount of phosphate in their diet. But an excess of phosphate in our bodies is linked to heart attacks, seizures, strokes, muscle cramps, weak bones, skin conditions. (Source)

When we release phosphate into our waterways by using it in the washing machine, we cause algae blooms in local rivers and streams. This starves the water of oxygen and leads to the widespread death of aquatic creatures. (Source)
Chlorine
Exposure to too much chlorine can have a serious impact on human health. (It was used as a chemical weapon in the first world war, after all!) For example, it can contribute to breathing difficulties and skin conditions. In the long run, it can contribute to cancers such as leukemia.

When it comes to the environment, it's not looking much better. Even small amounts of residual Chlorine can cause severe burning in fish and invertebrates, in some cases killing them.
Different Types of Zero Waste Laundry Detergent
There are several different types of zero waste laundry detergent. Here is a brief explanation so you can choose the best one for you.
Pods – Pods are a liquid-based laundry detergent held inside a clear capsule. You put them straight into your laundry drum. They are convenient and effective, but they tend to be more expensive and don't always fully dissolve.

Sheets – You can get super concentrated laundry detergent that feels like a papery sheet. You tear off a strip and pop it in with your laundry load. They are great for saving cupboard space but are usually a bit on the expensive side.

Liquid – Liquid detergent is a good choice for people whose water doesn't dissolve powder or tablets very well. They tend to be heavy and take up a lot of space in your cupboard, and it's tough to find a liquid detergent that doesn't come in a plastic container.
Powder – Powder is typically one of the cheaper options, and it frequently comes in zero-waste packaging. It can be extremely effective, but it doesn't always fully dissolve. This can leave white marks on your clothes.
Tablets – tend to be lightweight and compact. Depending on your water type, they don't always fully dissolve. To help them dissolve, you should put them directly in the drum of a HE washing machine, not in the little drawer.
Soap Bar – Great for hand washing laundry, especially if you are backpacking and want to cut down on weight. But they aren't ideal for use with a washing machine, and soap can build up on your clothes and leave a grimy layer.
Things to Consider When Buying Zero Waste Laundry Detergent
Organic Versus Bio-Based
Organic and bio-based do not mean the same thing. Bio-based products are made from plants, but it doesn't mean that those plants have been grown responsibly.

For a product to be certified organic, no inorganic pesticides and fertilizers have been used. This is much better for the planet and human health.
Beware of Greenwashing
Companies love to write 'eco-friendly' in their product descriptions and then charge customers a bit more!

If you don't want to waste your money on false claims, look out for official certification like 'certified organic' and a decent EWG Rating (A or B). Consider whether there is any plastic used in the packaging and look at the ingredients list.

If you have any doubts, just buy one of the detergents on the list I made in this article. I've already done all the checks for you!
Fragrance-Free
Fragrance-free does not necessarily mean hypoallergenic; it just depends on the ingredients. But generally speaking buying fragrance free means avoiding all kinds of toxic ingredients since 3163 ingredients hide behind the label "fragrance"!

Also remember that plant-based detergents can still contain allergens such as nuts, so it's best to check the complete ingredient list if you do have any allergies.
Beware of Soap
Soap-based products can leave a residue on clothes and build up in your washing machine. It's not noticeable at first, but over time your clothes will start feeling a bit grimy.

If this happens, it takes time and effort to strip the slimy layer out of your clothes and appliance. So avoid soap-based products when you can.
I've told you loads of things to avoid in a laundry detergent, but here are some positive things that you want to look out for actively:
How to Make Zero Waste Laundry Detergent Yourself
If you're feeling creative, there's no reason why you can't have a go at making your own laundry detergent. There are tons of great recipes online like this one if you want to give it a try.

BUT be aware of two issues:

1. If you have really hard water with lots of minerals, homemade may not be a great option

2. Soapy products can also leave an unpleasant oily residue on your clothes and in your washing machine.
This can lead to a frustrating clean-up operation where you have to strip your clothes – check out these testimonials of people having to do that, so proceed with caution!
How to Wash Clothes Eco Friendly & Zero Waste
Most people wash their clothes after every wear, but this isn't necessary! Not only is it a waste of water and power, but it will also cause your clothes to wear thin and lose their colors more quickly.

So, by all means, wash your underwear every day. But other clothes should only be washed when they genuinely need them.

For example, jeans can be worn for a long time without being washed unless the dog has dribbled all over them! Best is to do spot cleaning for minor stains instead of washing the entire garment.
WASH CLOTHES IN COLD WATER
Washing clothes in cold water uses much less power, and it's gentler on your clothes plus your colors are less likely to fade or stain other clothes! I would just recommend washing bed sheets on a hotter wash, especially if the person using them was feeling unwell.

But for day-to-day laundry, temperatures as low as 60 degrees Fahrenheit (15 degrees celsius) can get the job done!
Yes if you're desperately trying to get the kids' clothes dry in time for school, there's no harm in using the tumble dryer occasionally.

But try to hang clothes to dry whenever it's possible. You'll save energy, your clothes will last longer, and clothes smell so much fresher when they are left to dry in the fresh air!
USE MICROPLASTIC BALL TO COLLECT WASTE
Just like laundry detergents, conventional dryer sheets are full of toxic chemicals.

You can use vegan dryer balls instead, which could be made from bamboo or hemp fibers. Not only will they make your laundry softer, but they will also take less time to dry.
Alternatively, you could try out a long-lasting dryer ball like this. It isn't completely zero waste, but it can be used thousands of times.
Zero Waste Natural Eco-Friendly Laundry Detergent FAQs
Is Zero Waste Laundry Detergent more expensive?
Not necessarily. Although zero waste products tend to be more expensive than toxic alternatives, brands like Nellie's Suds are cheap and effective. You should also bear in mind the cost to your health and the environment. Conventional laundry detergents might seem cheaper, but the real price for that economic saving is being paid by someone, somewhere.
Can the EWG rating be trusted?
An EWG Rating helps us understand how safe our products are because many companies use terms like 'organic' and 'eco-friendly' without evidence. They aren't entirely foolproof, but they are helpful in conjunction with looking at the ingredients. The ratings go from A to F, with A being the best for the environment.
What is a TRUE Zero Waste Certification?
If a product is certified by TRUE, it means that the company is resource-efficient. Pollution, greenhouse gases, and litter are all being actively limited. According to the certification website, "True is the only zero waste certification that uses the internationally recognized definition for zero waste, from the Zero Waste International Alliance."
CONCLUSION
Trying to work out which products are genuinely good for the environment can be a bit of a minefield. Companies make bold claims left-right-and-center, often without bothering to back themselves up with any evidence.

If you're trying to buy a non-toxic, zero-waste laundry detergent that hasn't been tested on animals, this article should help you out!

Pod lovers can check out Dropps, whereas people preferring powder detergents should check out Nelly's Suds. Detergent sheets like Tru Earth are great because they take up hardly any space.

Whatever you chose, you will be able to sleep soundly knowing you chose a better product for the earth and your health.
I hope you found this article helpful please comment and share it and thank you so much for joining the zero-waste movement. Together, we can turn this world around for the better!