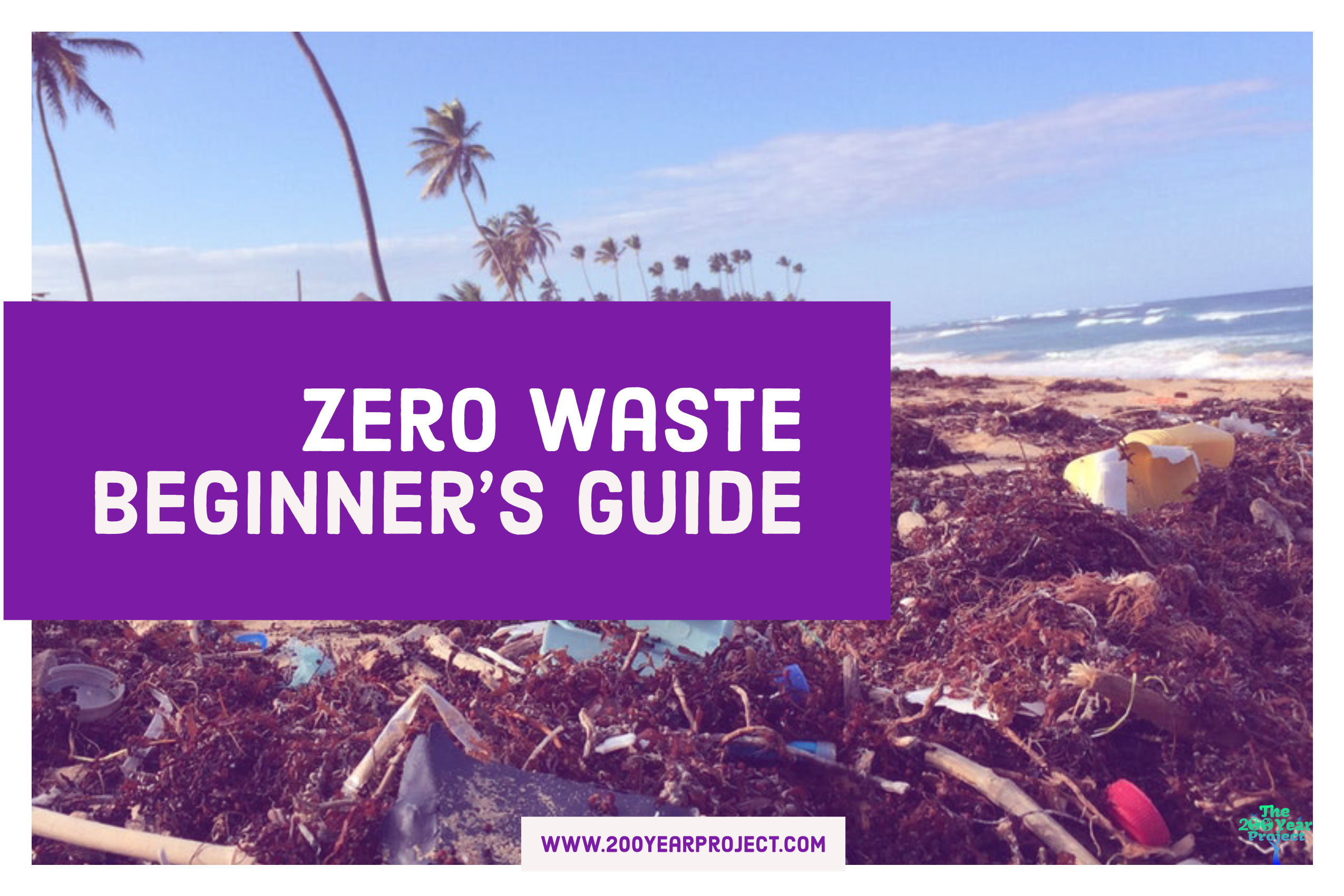 When I first heard about Zero Waste, I was definitely intrigued, but also very skeptical. ZERO WASTE? How is that even possible in today's world?
Well I found out that Zero Waste doesn't actually mean you produce absolutely no waste overnight, it just means A) try not to produce landfill waste, B) use reusables as often as possible instead of single use products, C) compost food scraps and D) recycle everything else like aluminum, metal and glass.

If it seems overwhelming at first, remember it is just about working toward zero wasting one thing at a time. Which is where this Zero Waste Guide can come in handy! And if you wanna find out What Zerowaste Means and why it is Important, click on this article!
My journey began when I was told by a friend, "There's a video on Youtube where someone fits their entire trash into a jar!" I was like, "No way! That's crazy!" It sounded like such a daunting task to do something like that, I regrettably didn't dig much further for a few months.

I knew that once I started digging and researching, I would delve so deep that it would take up months of my time. But a few months had passed and it popped back into my mind, so I just had to find out more. That was April 2016 and that was also the time when I started my Instagram journey of documenting my steps and tips.
Now, fast forward to today. I am still on my Zero Waste journey and am still working my way toward the trash jar, but I am doing the best I can and improving as I go! This journey continues to teach me so much, as I find out about how to reduce waste that I had never considered before. On top of it all, I can share these ideas and successes with you in easy to follow along tips!
If you are a beginner, I want to start out with the first few tips you can implement right now and make a tremendous impact on the environment already! Below I highlight the first 6 Tips to get you on your way to being a Zero Waste Champion one tip at a time!
1. Grocery and Produce Bags
This should be one of the easiest switches to make and most consumers are already aware of alternative bags to "plastic or paper". The added tidbit I want to highlight on this topic is to expand it to Produce Bags. Nobody ever seems to think about bringing their own produce bags, but those small, light weight plastic bags find their way into our environment and wildlife much easier and end up flying around into oceans and rivers. 
Instead of relying on those, buy reusable produce bags you can use again and again!
We bought some cotton ones like these:

But there are also great mesh produce bags available that might work better for some produce like these:
The great thing about these produce bags is that the tare weights are attached to the bag tags so when your cashier weighs your produce, make sure you don't forget to tell them to take off the tare weight!
2. Zero Waste Laundry Detergent
This is an easy switch to make as there are so many great alternatives out there nowadays! We've got a complete guide on Zero Waste Natural Laundry Detergent with everything surrounding that topic that goes into detail explaining each product we recommend (there are pods and powder and sheets!), what ingredients to look out for, what ingredients to avoid, how to make it potentially yourself and how to wash your clothes more eco friendly. 
3. Bulk Shopping
Finding a store near you that carries bulk items like beans, rice, nuts, sugar and other products is very helpful if you're trying to avoid everything packaged in plastic. In our region we found Sprouts, Whole Foods and local Co-Ops that have things in bulk so depending on where you live, I am sure you can find at least the staples in bulk! Once your eyes are opened to the amount of waste we produce without even thinking twice, you will want to shop bulk and never go back.
4. Farmers Markets
Local Farmers Markets are a great place to start shopping since a lot of the food comes unpackaged. In most cases I have asked the farmers if they can use my bags and containers.

For instance they have had strawberries in plastic containers, I ask to take the strawberries in my own bag and they can keep the plastic container. The farmers appreciate it since it cuts down on their cost. In some cases you could also take the container home and then return it next week! Either way the environment and the farmers will love you for it!
5. Glass Bottles
If you're thirsty, stay away from plastic bottled drinks as much as possible! There are abundant health reasons why, which I will delve into deeper in the upcoming videos, but avoid plastic water bottles and other drinks by bringing your own reusable water bottle.

I prefer glass personally since it doesn't stain and a stainless steel bottles sometimes have a certain kind of taste, plus glass is 100% recyclable and after a lot of research I decided to go with this one! Look at the pretty color options they have – Get it on Amazon!

But if you absolutely do not wanna go with glass since I understand it can be dangerous when you're doing exercise and are afraid the glass might break (even tho the sleeves are pretty protective) then I understand that. Also glass is heavier than stainless steel. So if you rather go with stainless steel bottles, check out these amazing Options on Amazon!
The first bottle is a great one for physical activity! I love Klean Kanteen since they are double insulated, it keeps everything hot or cold for days! I own the little 12 oz bottle and use that for tea or coffee and it keeps things hot for hours on end! They've also got several different colors to chose from!

6. Reusable To-Go Cups
Yes those pesky single-use plastic Starbucks and Coffee Bean cups do a number on the environment! The plastic cups cannot be recycled and just end up in landfills, still rotting away thousands of years from now in the ocean…but there is a fix for you the consumer – bring your own reusable to-go cup!

Starbucks even offers 10cents on every order when you come in with your own cup! Plus it keeps your drinks hot or cold even longer! I think that's a win win situation! Corkcicle is my favorite company for these cups (yes I know they are for wine haha) but they work amazingly with coffee or tea and they look very stylish! They even got copper and wood colors too and different shapes! Check them out here!
Come Back to Find out More!
This page is only a quick introduction into a few easy starter Tips, please come back in the future so I can explain each of these Tips in detail. In the meantime you can learn more about Zero Waste by checking out our Zero Waste Hub that has a tremendous amount of recommendations for books, documentaries, articles and blogs. Please come back to this page in the near future so I can explain each of these Tips in detail and you can gain some further understanding of how you can make a huge impact right away, without having to do too much research or change your habits too extremely all at once, since I know it can be overwhelming at first.